Cradle of Catalan culture and other cultures and civilizations, witnessed major changes as the Industrial Revolution or the Civil War, the history of Barcelona is fascinating. Check it out!
A walk through the history of Barcelona
In the Neolithic period, there was already a human presence on the current site of Barcelona. At the end of the first century BC. AD, a Roman colony was founded on the same territory as the
Barcino
. It was peopled by a thousand people and a wall of protection around him that can still be seen today remains in the old town.
For over 200 years,
Barcelona
was under Muslim rule, and with the Reconquista (Muslim conquest of the Iberian Peninsula by Christian rulers kingdoms), it became a county of the Carolingian Empire and the habitual residence of the crown Aragon. The fruitful medieval times did the
Barcelona economic and political center
of the Western Mediterranean. The
Gothic Quarter
of the city is also the precious testimony to the splendor that Barcelona lived the thirteenth to the fifteenth century.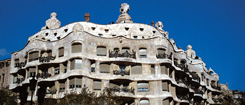 From that time and until the eighteenth, Barcelona lived a certain decadence which coincided with its struggle to maintain its economic and political independence. In 1714, however, this struggle culminated in the fall of the city in the hands of the Bourbon troops. This year was the loss of rights and privileges of Catalonia and the Catalans.
The mid-nineteenth century, with the arrival of the industrial revolution and development, essentially, the textile sector began a stage for cultural recovery. This period, which is called Renaixenca (renaissance), saw the revival of Catalan as a literary language.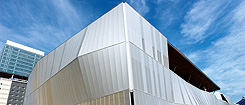 The twentieth century also ushered in a major urban transformation in the
city of Barcelona
, culminating with his characteristic
Eixample district
, which are located in some of the most remarkable buildings in Barcelona Catalan Modernism. One of the most renowned architects of this period was the Catalan
Antoni Gaudí
, who is the author of works internationally known as the
Casa Mila
(also called La Pedrera), the
Casa Batllo
or the Temple of the Sagrada Familia.
The freedoms gained during this stage were substantially limited during the Civil War of 1936 and the dictatorship that followed. However, with the restoration of democracy in 1978, Barcelona will recover its cultural and economic force. The celebration of the Olympic Games in 1992 has led to the revitalization of the full potential of Barcelona and the reaffirmation of its capacity.
In 2004, the organization of the
Forum of Cultures
was an opportunity to recover some industrial areas, that have since become residential neighborhoods. This is an example of the spirit of renewal with Barcelona which looks at the twenty-first century.